Today marks 20 years since Biggie's death
On March 9, 1997, music mourned the passing of hip-hop icon The Notorious B.I.G. after he was fatally shot in Los Angeles. His impeccable flare and innate wordplay captivated listeners on tracks like "Juicy," "One More Chance," and "Big Poppa." Despite having his career curtailed at the age of 24, his magnum opuses, 1994's Ready to Die and 1997's double-album Life After Death, are still revered the culture twenty years later.
In hopes of maintaining his legacy, FOX 5 news reporter and host of Hot 97'sStreet Soldiers, Lisa Evers, created a TV special to celebrate Biggie's illustrious career. Evers tapped two of Wallace's close friends in Junior M.A.F.I.A.'s Lil Cease and Hot 97's DJ Enuff, Biggie's tour DJ, to ruminate on their days with the late rapper.
Shaquille O'Neal

was with

The Notorious B.I.G.

just hours before he died back on March 9, 1997. According to Shaq's 2011 book,

Shaq Uncut: My Story

, the NBA great was with Biggie at a tattoo parlor that day. And he even planned on attending a party sponsored by

Vibe

magazine with Biggie that night before he fell asleep while he was waiting for his ride and ultimately missed the party. Shaq found out Biggie died when his mother paged him early the next morning to check on him.
"I don't say I could've prevented it," Shaq said. "I was just saying…if I was out there by the car, would they still have fired? That's the only thing I would say to myself. I don't wanna make it seem like I could've saved him. I don't want to make it seem like if I was there, the shooters wouldn't have shot. If I was there by the truck, after we all left and I'm dapping him up, would they still have shot?"
The Notorious B.I.G.
videos
The following is excerpted
from
Original Gangstas:
The Untold Story of Dr. Dre, Eazy-E, Ice Cube, Tupac Shakur, and the Birth of West Coast Rap
by Ben Westhoff, forthcoming from Hachette Book Group
Biggie and other young rappers assembled in recording studios or hotel rooms to hear Tupac lecture about how to make it in the game. "'Pac could get up and get to teaching," said EDI Mean. "Everyone was transfixed on this dynamic individual, and soaking up all the information we could soak up." But Tupac devoted special attention to Biggie, grooming him and letting him perform at his concerts. Biggie even told him he'd like to be a part of another of his affiliated groups, called Thug Life. "I trained the nigga, he used to be under me like my lieutenant," Tupac said.
Tupac claimed to have directly influenced Biggie's style. "I used to tell the nigga, 'If you want to make your money, you have to rap for the bitches. Do not rap for the niggas,' " he said. "The bitches will buy your records, and the niggas want what the bitches want." As proof that Biggie had heeded his advice, Tupac cited the difference between his early track, the aggressive "Party and Bullshit," and softer songs from his debut
Ready to Die
like "Big Poppa," which appealed more to the ladies: "Soon as he buy that wine, I just creep up from behind / And ask what your interests are, who you be with?"
But before
Ready to Die
came out, Biggie worried he could miss his shot, considering that the new label he was signed to, Bad Boy—owned by his manager Sean "Puffy" Combs—hadn't taken off yet. Things weren't happening for him quickly enough, he complained. He asked Tupac to take over as his manager, in hopes Tupac could advance his music and film career as rapidly as he'd done his own. "Biggie looked like he was wearing the same pair of Timberlands for a year, [while] 'Pac was staying at the Waldorf‑Astoria and buying Rolexes and dating Madonna,"
Born as Christopher Wallace on May 21, 1972, in Brooklyn, New York, Biggie Smalls, also known as Notorious B.I.G.,
in Brooklyn, New York, in the neighborhood of Bedford-Stuyvesant. Biggie experienced a rough childhood—at an early age, he was surrounded by drug addicts and dealers. As a result, by his early teens, Biggie had joined the life that was all around him. "Hustlers were my heroes," he once said. "Everything happened on the strip I grew up in. It didn't matter where you went, it was all in your face."
At the age of 17, Biggie was arrested for selling crack, and spent nine months in a North Carolina prison before making bail. As he navigated his young, uncertain life, Biggie started making music. He hung around a crew called the "Old Gold Brothers," and began experimenting on his own.
Around his neighborhood, Biggie Smalls, as he called himself then, began building a reputation as a musician. After a tape of his landed in the hands of Mister Cee, a well-known DJ, Smalls was featured in the hip-hop publication,
The Source
.
The article was enough to catch the attention of Sean "Puffy" Combs, a young producer at Uptown Entertainment, a New York-based label specializing in hip-hop and rhythm and blues. When Combs split from Uptown to start his own label, Bad Boy Entertainment, he brought Smalls with him.
Immediately, The Notorious B.I.G., as he now called himself, got to work, appearing on a 1993 remix of Mary J. Blige's single, "Real Love," and followed it up with a second Blige remix, "What's the 411?" His debut as a solo artist came with the single, "Party and Bullshit," on the soundtrack to the film, Who's the Man? (1993).
In 1994, The Notorious B.I.G. released his debut album, Ready to Die, which told the story of his life, from drug dealer to rapper. Backed with hits like "Juicy" and "Big Poppa," the record went platinum and the young hip-hop artist became a full-fledged star. That same year, The Source named the rapper "Best New Artist," "Best Live Performer" and "Lyricist of the Year."
As his star power increased, Biggie did his best to share his prestige. He backed the work of several rappers that he'd originally performed with while starting out in Brooklyn, and took to the studio in support of other artists on Sean "Puffy" Combs's label. He also teamed up with such stars as Michael Jackson and R. Kelly. By the close of 1995, Biggie was one of music's best-selling and most sought after performers.
Troubled Times
However, success and wealth hardly brought peace to Biggie's life. In the immediate aftermath of Ready to Die's popularity, the rapper found himself in constant fear. In 1994, he told The New York Times that he was disliked for having more money, which came with his fame. The large rapper—at 6 feet and three inches, and tipping the scales at nearly 400 pounds—said that he jumped whenever the door to his apartment building opened, fearing that someone might want to hurt him.
Biggie's fear led to anxiety, which led to spurts of aggression. In May 1995, he allegedly beat up a man after they got into a dispute over a canceled performance. Later, he took a baseball bat to a group of autograph seekers. His most famous battles, however, occurred with others in the hip-hop industry, most notably with Tupac Shakur, Marion "Suge" Knight and Death Row Records. The rivalry turned into an East Coast-West Coast feud (with Combs and Biggie representing the East), and the tension escalated in 1994, when Shakur and a member of the Wu-Tang Clan were shot and robbed. The two men survived and Shakur came out blazing, accusing Biggie and Combs of orchestrating the attack. Both vehemently denied the accusation.
Shakur added fuel to the flames with a pointed slam on the East Coast rap world in the single, "Hit 'Em Up," in which he claimed to have slept with Biggie's wife, Faith Evans. In September 1996, East Coast-West Coast battle heated up even further, when Shakur was murdered in a drive-by shooting in Las Vegas. Rumors of Biggie's involvement immediately began to make the rounds, and when the rapper was one of the few hip-hop artists not to make an appearance at an anti-violence summit that was held in Harlem a few weeks later, the finger-pointing intensified.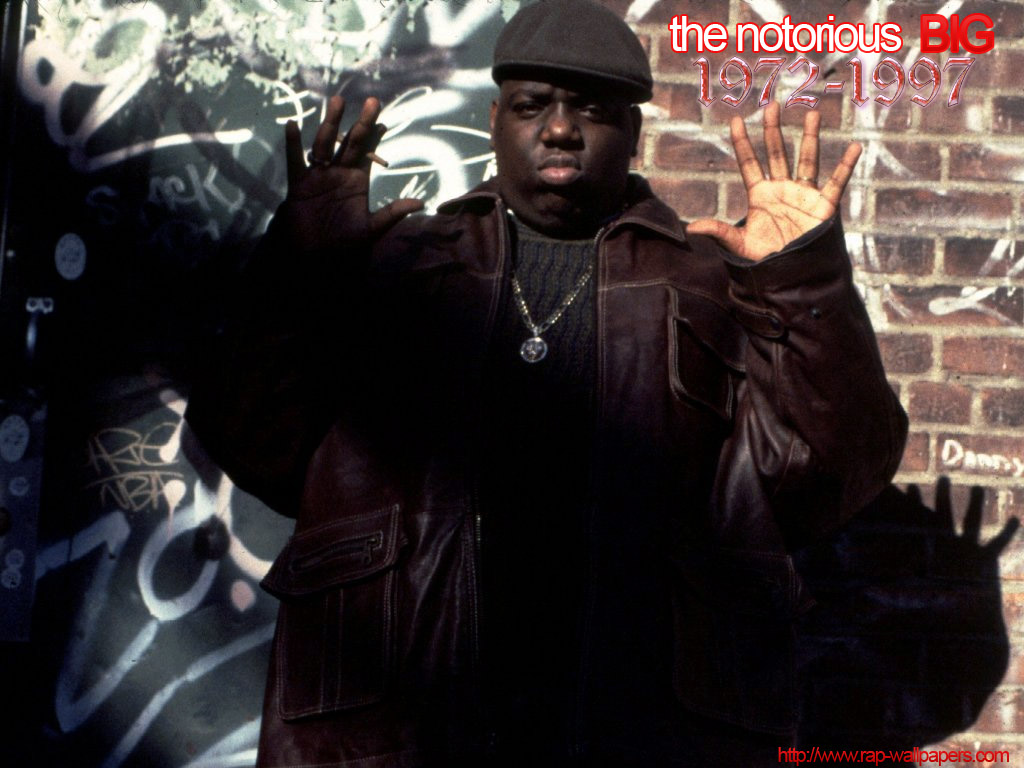 Shakur's death amplified Biggie's fears about his own life, and his concern was tragically validated on March 9, 1997. Biggie, who had just come out of a party celebrating the 11th Annual Soul Train Music Awards, was sitting in an SUV when another vehicle pulled up to his car, opened fire and killed him. Biggie was only 24 years old at the time.
For many fans, the murder was viewed as retaliation for Shakur's murder. Biggie's death shook the music world, prompting fears that the hip-hop world might erupt into a full-fledged war, ending numerous other lives. That didn't happen, fortunately, but Biggie's friends, family and fans never received any answers regarding his death. Despite years of speculation regarding the identity of the gunman, Biggie's case was never solved. Biggie's family has been outspoken about its disappointment with the handling of the case, going as far as accusing the Los Angeles Police Department of employing rogue officers who were involved in the murder.
Biggie's death came just as the rapper was about to put out his second album,Life After Death. In the wake of Biggie's killing, the record was a giant hit, selling nearly 700,000 copies in its first week. Two years later, Born Again, an album of unreleased material from Biggie, was released. A third album of extra material, Duets: The Final Chapter, was released in 2005.
Today, Biggie is still one of the music industry's most admired hip-hop artists. Several musicians have paid tribute to Biggie by mentioning him in their songs, and his musical style has been emulated by countless up-and-coming artists. Undoubtedly, Biggie's talent as a writer and rapper will continue to be acknowledged for decades to come.